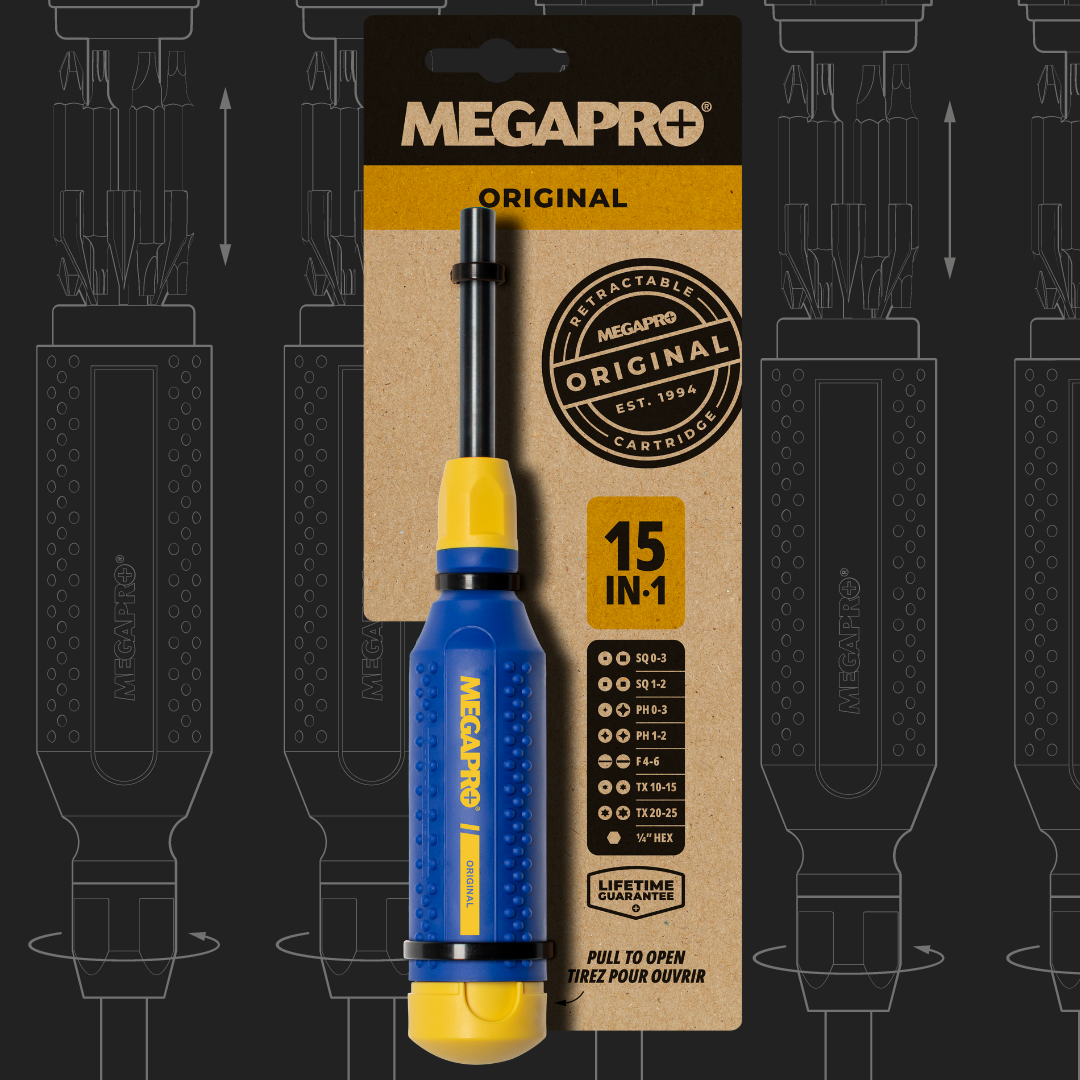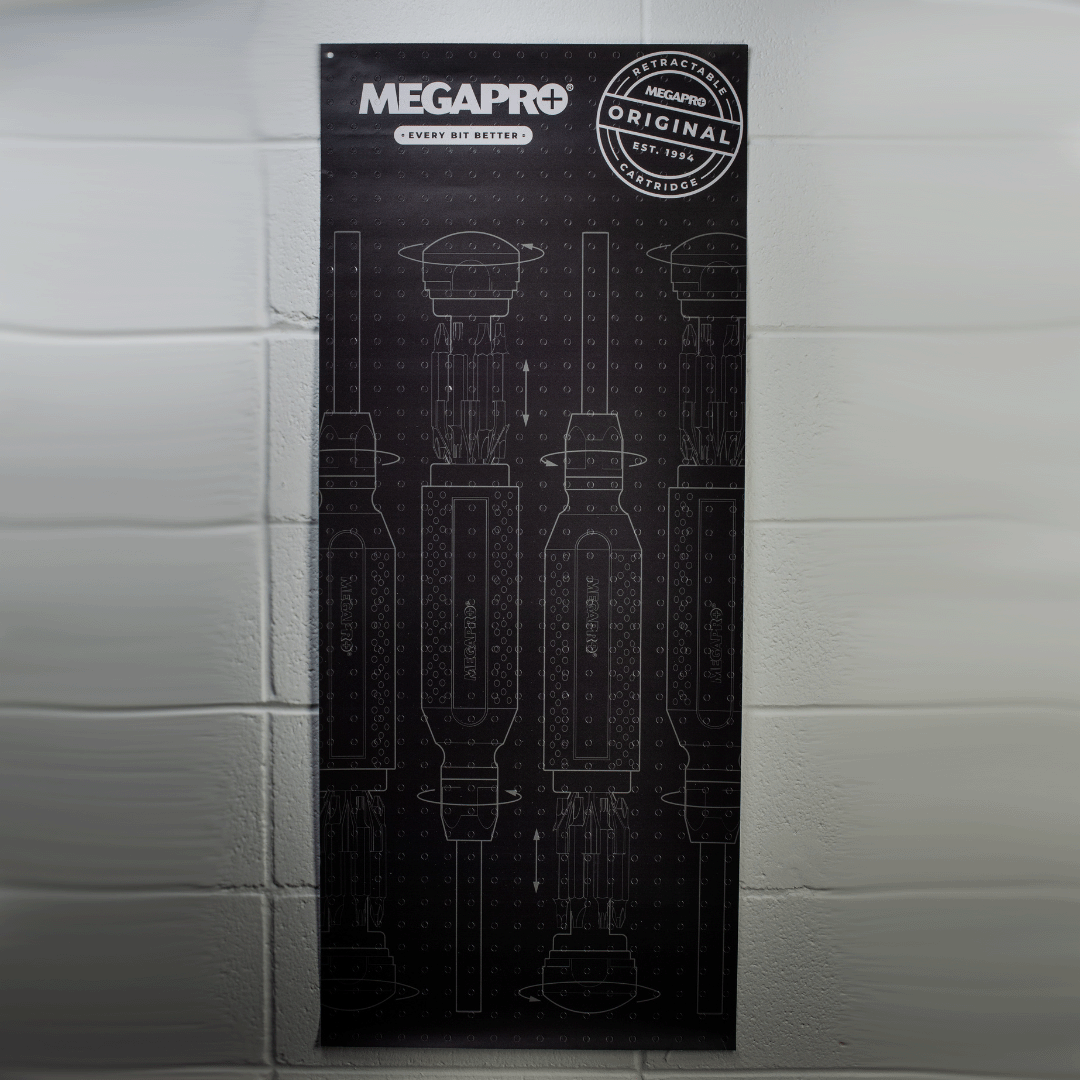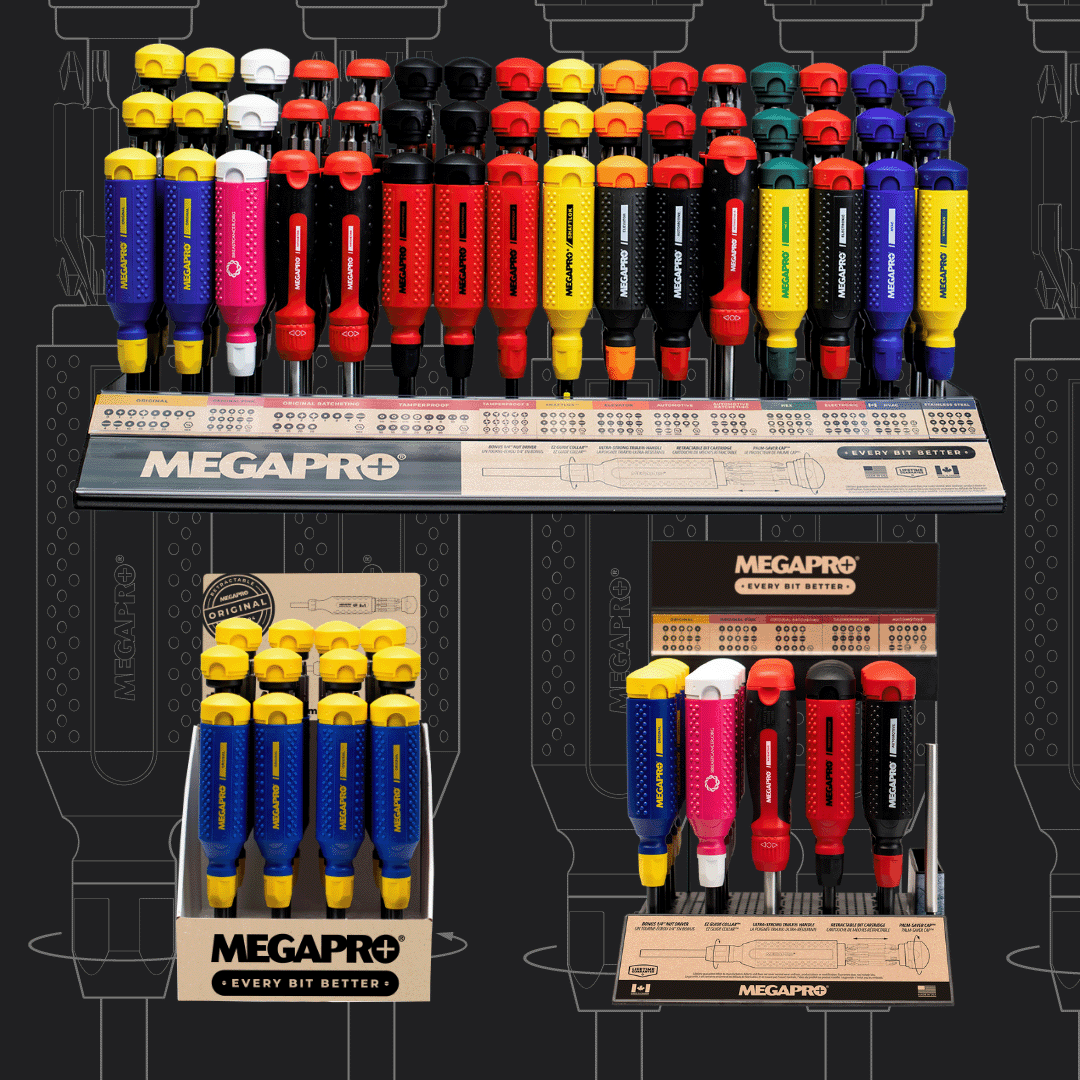 Clients asked so we listened. Our newly designed screwdriver "envirocard" is made from thick kraft paper and is easily recycled. The driver is securely strapped to the card and includes bit wrapping within the bit cartridge to prevent theft. The bi-lingual card is available in two language options:
English/French, or
English/Spanish.
It includes barcodes for easy scanning and coordinates nicely with the Megapro product lineup, including the new planogram backer.
Make a Megapro place in your space with the all-new Megapro Tools planogram backer. This thick stock, gloss paper backer is perforated for easy hook assembly and is compatible with standard pegboards (1" OC hole pattern, 9/32" hole diameter). It comes in two sizes, which both comfortably support 3-4 columns of product:
Secure the backer to your pegboard with the provided clips and add your customized product lineup to capture the Megapro experience designed to get your product sell-through.
With the Megapro Tools counter display merchandisers, you can snag the impulse buy by placing a dozen drivers at checkout, or offer a broad product selection by placing a display on your aisle's endcap shelving. Displays are available in three size variations:
12-piece display
20-piece display
48-piece display
The 20 and 48-piece displays offer customizable tiles in branding that matches the "envirocard", allowing you to determine the right product mix for your customers. 12-piece displays come pre-stickered. It is recommended that 12-piece displays carry a single product sku.

If you currently carry Megapro and have an existing, 20 or 48-piece counter display, email sales@megaprotools.com to request new display tiles be sent with your next order.
Replacement Bit Packs
One of the most commonly asked questions we hear is, "how do I replace the bit I lost?" In addition to our Lost Bit Program, Megapro Tools is pleased to start offering replacement bit packs. These packs mirror their driver namesake and are available in the following variations:
Bits are packaged in bags with tri-lingual (English/French/Spanish) hangable packaging, including bit-load list and barcode for easy scanning.
Carded Extensions
Get the upsell by adding newly offered carded extensions to your planogram mix. These tri-lingual (English/French/Spanish), thick stock cards are available in three SKU variations:
The 6" Aluminum extension is compatible with all Megapro drivers, giving you an extra bit of reach with use. ShaftLOK™ locking extensions work with the ShaftLOK™ Screwdriver. The 6" and 10" ShaftLOK™ extensions can even lock in together, offering an extra-long 16" reach.